Reading works meditatively, relax 8 minuten with this article.
Making gemstone jewelry with natural stone beads is creative and rewarding. Make your own symbolic bracelet or necklace to fit your energy and spiritual needs. Discover the power of crystal jewelry in this blog.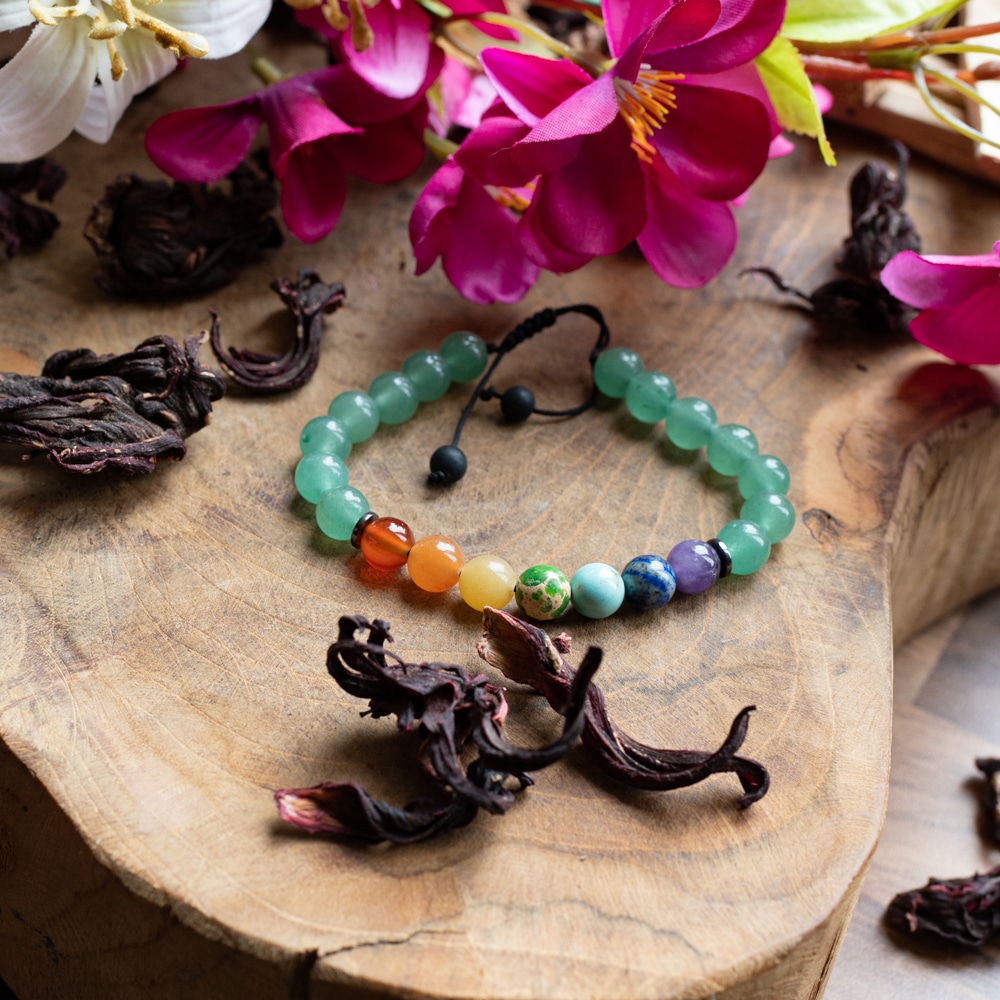 Jewelry can have a symbolic meaning, especially if you make your own jewelry with precious stones. Besides being a good gift because of the special thought and time you put into it, handmade jewelry is also beautiful and meaningful to wear. Are you wondering how to make jewelry with precious stones? And what magical materials do you need for that? Read on!
Make Your Own Jewelry with Gemstones
Gemstones are natural gifts with good vibes. That's why you may want to carry them with you or wear them as jewelry. It is important to take good care of them, so that you can enjoy your creation for a long time. For a personal touch, choose crystals that suit you or the person you are giving the gift to. In the blog 'Which Gemstone Do I Need?' you can read tips about choosing the right gemstones. It can also be fun to wear a well-known combination of crystals, such as the Golden Triangle of Amethyst, Rose Quartz, and Rock Crystal.

The Different Types of Beads at Spiru
At Spiru we have a wide range of gemstone beads for making jewelry. From light blue Amazonite to golden brown Tiger's Eye, there's something for everyone. Some popular choices are:
Check Out All of Our Gemstone Beads
DIY Jewelry Making Supplies
What do you need to get started? From bracelets to necklaces, a few things are always important. To make your jewelry, you'll need:
Gemstone Beads
Wire
Closure
Jewelry parts
Pendant or Charm
Gemstone Beads
Gemstone beads come in different shapes and sizes. At Spiru we have enough choices to create your perfect combination. Even if you use only one type of gemstone, they can still differ from each other. Each bead has its own unique color or pattern. That is one of the things that is so special about gemstone beads! Every bead is a unique natural product. Get creative by combining different beads and charms to create the perfect personal piece.

Jewelry Wire
You can make gemstone bracelets and necklaces using wire or you can use leather or wax cord necklaces. There are different types of jewelry wire available. Nylon thread or fishing line is transparent and flexible. Elastic wire can be especially helpful if you're making a bracelet for someone whose sizes you don't know. Wax cords and leather cords are often a bit thicker and stiffer than other cords, so that the beads stay in place. You could even upcycle an old necklace chain. What you have to remember is that the hole of gemstone beads is often smaller than the holes of other beads, so make sure you choose a material that will fit!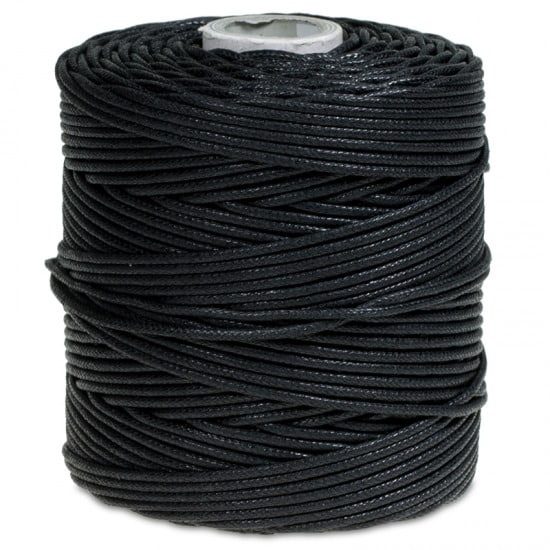 Jewelry Parts
With jewelry parts, think of crimp beads or bending rings. Crimp beads can be used to make a loop on your wire, for example, which you then pinch closed with flat pliers. This is an easy way to attach a clasp for example. You can also hang all kinds of charms on your jewelry with bending rings to make it as colorful as you want! You can also hide a crimp bead with crimp bead concealers. Your jewelry gets a nicer finish and the sharp edges of the crimp bead are neatly concealed.

Clasps
You can close jewelry in different ways. For example, you can use a hook clasp or toggle clasp. Lobster clasps are also often used, because they fit almost every piece of jewelry! A magnetic closure is useful for someone who, for example, has problems with his fingers or motor skills. Although magnet clasps are, of course, nice and easy for anyone!

Charm, Pendant, or Gemstone Pendant
In the Spiru assortment you will find different types of charms and pendants. You can of course also make your own pendant from a gemstone. We have special gemstone pendants for this.
Make your own Aromatherapy Bracelet
Some people who are highly sensitive are calmed by nice smells. Gemstones and scented oils can help with this. Lava Stone makes a wonderful Aromatherapy Bracelet. This porous stone absorbs Essential Oil and holds the scent, releasing it slowly throughout the day. Lava Stone is a dark black color, but how your creation looks is entirely up to you. Perhaps for example you'll add a charm or some colored gemstone beads as well.

Making Mala Necklaces
A Mala is a beaded necklace that can help you keep track of counting mantras or breaths during mediation. They're very popular among yogis and others who practice Mantra Meditation. Specially made for counting mantras, most Tibetan prayer beads have 108 beads and one extra bead, the guru bead. Sometimes malas or prayer beads also have extra transition beads that divide the sections into smaller amounts. This way you know how far you are in your session. To make your own mala, you'll need some sturdy twine, the right amount of beads, and at least one special bead. Often people choose a different type of bead for transition beads or the guru bead. Maybe a larger bead, a bead of other material such as a wooden bead or a charm would work well for you. Tie a knot under this special bead or charm and attach a tassel if desired.

Making Shamballa Bracelets
Shamballa bracelets are also popular for meditation, but some people wear them simply to remind themselves of important Buddhist values ​​such as love and compassion. To make one:
Tie together 3 strands of twine or String.
Place a knot about 10 inches from the top of the three strands and tape them to your work surface so that they don't move.
Make about 5 flat knots before stringing the first bead onto onto the center string, and then secure it with 1 or 2 flat knots.
Continue like this until the desired length is reached.
End your work by again making about 5 flat knots. Make a tight knot with the outermost 2 strands and cut off the excess.
Make a closure with a separate piece of rope, as a kind of sliding mechanism of flat knots over the original strings.
Attach a bead to each end and your Shamballa bracelet is ready!

Making Jewelry with Symbolic Charms
Charms are a magical addition to your handmade jewelry. They give that extra bit of meaning to your creation. In addition, they bring movement and sound to your jewelry, so that your accessory really stands out! Well-known spiritual charms are, for example, the Mandala, Ohm, Flower of Life , and Tree of Life, which symbolize harmony and growth. For some luck and protection, you can decorate your beautiful basting with a Four Leaf Clover or a Hamsa Hand. Even the bright blue Evil Eye could really be an eye catching addition.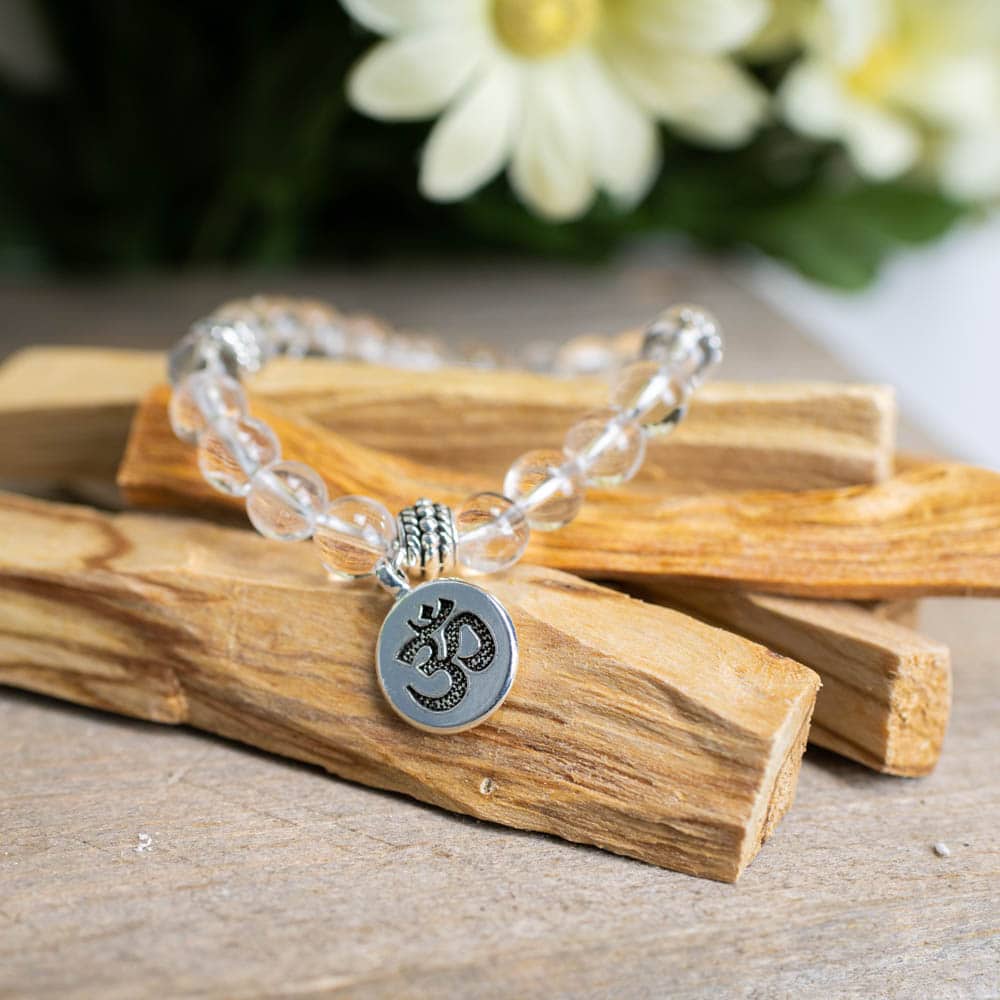 Make and Care for Gemstone Jewelry Yourself
To enjoy your spiritual jewelry for as long as possible, it is important to take good care of it. Especially because some gemstones do not tolerate water and cosmetics well, it is good to read our blog with Basic Tips for Caring for Gemstones. Pay attention to which gemstones you have strung on your jewelry, because not every stone can tolerate all types of cleansing  and charging equally well. Cleansing Gems and Charging Gems can be done in different ways, so be sure to choose one that suits the gems you've used.  Of course, any damage would be a waste of all the love and effort you put into it!
More About the Gemstones at Spiru
Can't choose between the beautiful beads? Maybe try starting with your Birthstone. Then you know for sure that the gemstone suits you! Do you have a color that appeals to you? Take a look at the handy overview of Gemstones by Colors. Also popular are rock crystal and rose quartz. So there is plenty to choose from!
Do you already know which beads you want to use?