Reading works meditatively, relax 7 minuten with this article.
Making gemstone water is an easy way to enjoy a boost of crystal power on a daily basis. In this blog you will find five recipes for crystal infused water. Cheers to your health!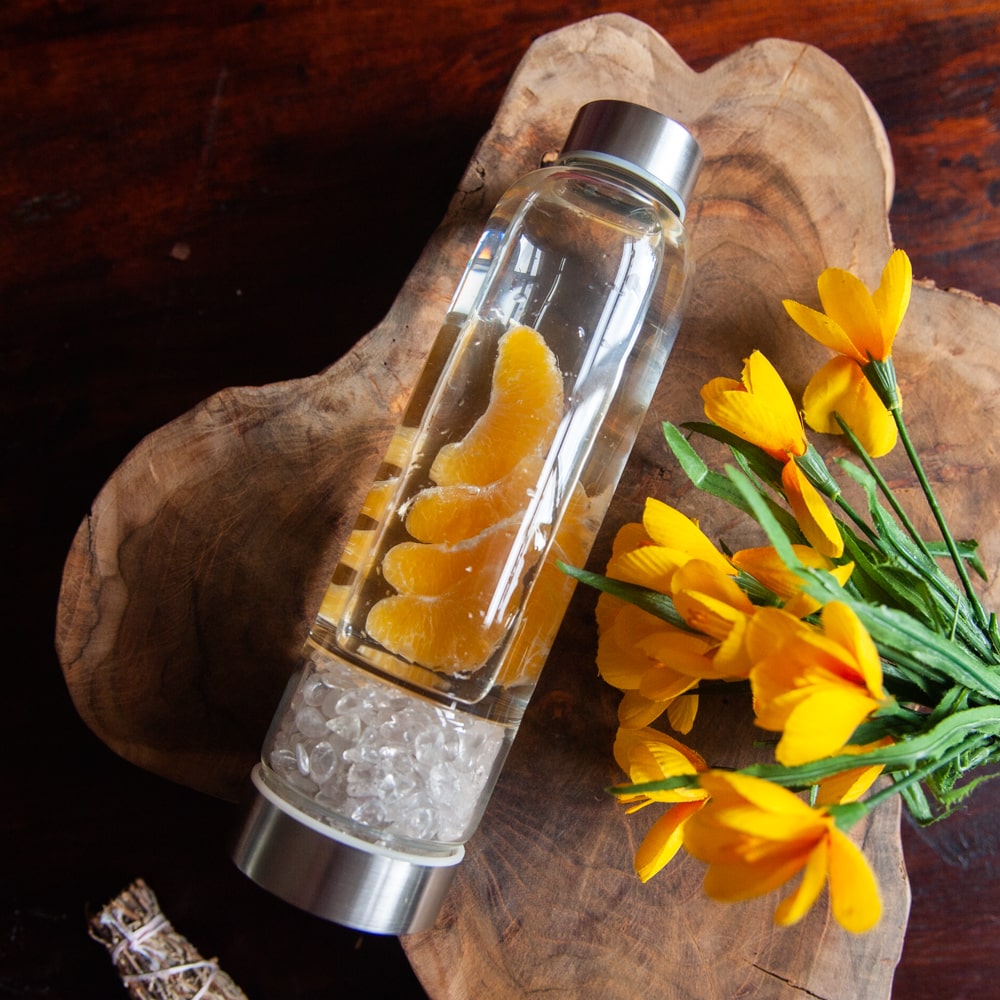 You may be thinking, what is crystal infused water and should I be drinking water with crystals too? The idea behind gemstone water is pretty simple: you can charge your water with the good energy of your favorite crystals. Many people also believe that gemstones can purify and vitalize water. According to gemstone experts, this is a drinkable way to enjoy the benefits of helpful and healthful crystals. The handy thing about crystal water or gemstone water is that you can use the same gems repeatedly, so you never have to worry about running out of your spiritually stimulating cocktail!
Do you want to know how to make gem water yourself? In this blog you will learn five methods to make a natural power drink using:
Crystal Coasters
Gemstone Water Sticks
Gemstone Water Bottles
Loose Gemstones
The Golden Triangle

Tips Before You Start Making Gemstone Water
Are you thinking about charging your stones in water and then making gemstone water from it? That's one possibility, but there are a number of things you should take into account. With the tips and tricks below you are completely prepared to vitalize water with gemstones and to turn it into a jewel of a drink!
Do not use potentially toxic stones or specimens that are prone to splintering. This may sound like common sense, but you don't want to turn your drink into a killer. Keep yourself safe by sticking to Tumbled Gemstones and when in doubt, ask for more information on this practice from an expert, for example a mineralogist or gemstone therapist.
Choose gems by their specific quality. Each crystal is associated with a special effect. Find Some Help Picking the Perfect Gems Here.
Cover your water while charging, so that no dust or other dirt can reach the water.
Mixing stones is fine, but only if you are sure that the crystals you choose combine well with one another. Do not create an overload of different stone types! After all, you're looking for soothing and energizing vibes, not a sensory overload.
Work with energetically clean stones. Here you can read more about Charging Gems and Cleansing Crystals so you can get started making water with optimal effects.
Only use tap water or spring water, no sparkling water. Carbon dioxide could damage your stones.
Making Gemstone Water with a Crystal Coaster
The easiest way to make gemstone water is using a Gemstone Coaster or mat. You simply place the carafe on the crystal coaster. According to experts, the energetic power of the stone is then transferred through the glass to the water. It's very easy, but takes a little bit of patience.
What Do You Do?
You place a glass or carafe filled with water on a gemstone coaster. Let it rest on the gemstone for about 24 hours. Et voilà, the crystals and minerals have been absorbed into your water.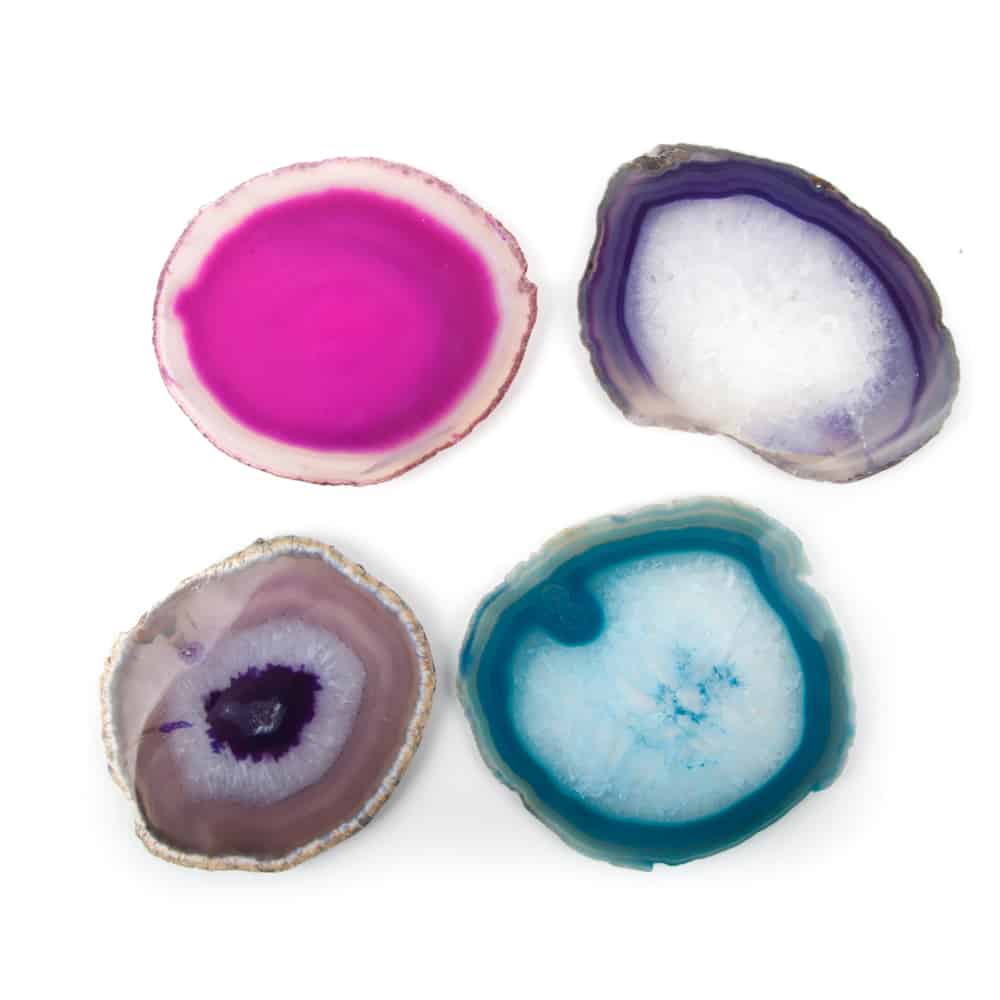 Making Crystal Infused Water with a Gemstone Water Stick
A Gemstone Water Stick is a glass tube that contains a collection of stone types. Think of it as a sort of tea strainer for immersing spiritual stones in water. The crystals make indirect contact with the water through the glass and you don't even have to stir. In fact you shouldn't stir to ensure that you don't damage the stick! These tubes contain pre-sorted stone combinations, so you can get started right away.
How Do You Use It?
Carefully place your water stick in a glass or carafe filled with water. Leave it in place according to the instruction time, until the water is charged. It generally takes 15 to 30 minutes. Be sure to remove the stick before pouring.

Charging With a Gemstone Water Bottle
The Gemstone Water Bottles are completely ready for use. These are special water bottles that have a reservoir for crystals. You can usually open this compartment so that you can change, clean, or charge the crystals. Order one with gemstones that appeal to your needs now, knowing that you can swap them out later! In our Gemstones Water Bottle assortment,  you will find a variety of precious stones, that are great for making water. There's even a Powerful Mix of Amethyst, Lapis Lazuli, Citrine, Aventurine and Rose Quartz.
How Do You Use It?
Fill the reservoir with stones of your choice and close it. Pour water into the bottle and let it sit for half an hour to an hour. You can basically just keep refilling the bottle continually enjoying your Amethyst Water, Rock Crystal Water, or whatever gem you choose! Is the power of the water diminishing? Then cleanse your stones and charge them up for the next round.
Check Out All of Our Gemstone Water Bottles and Sticks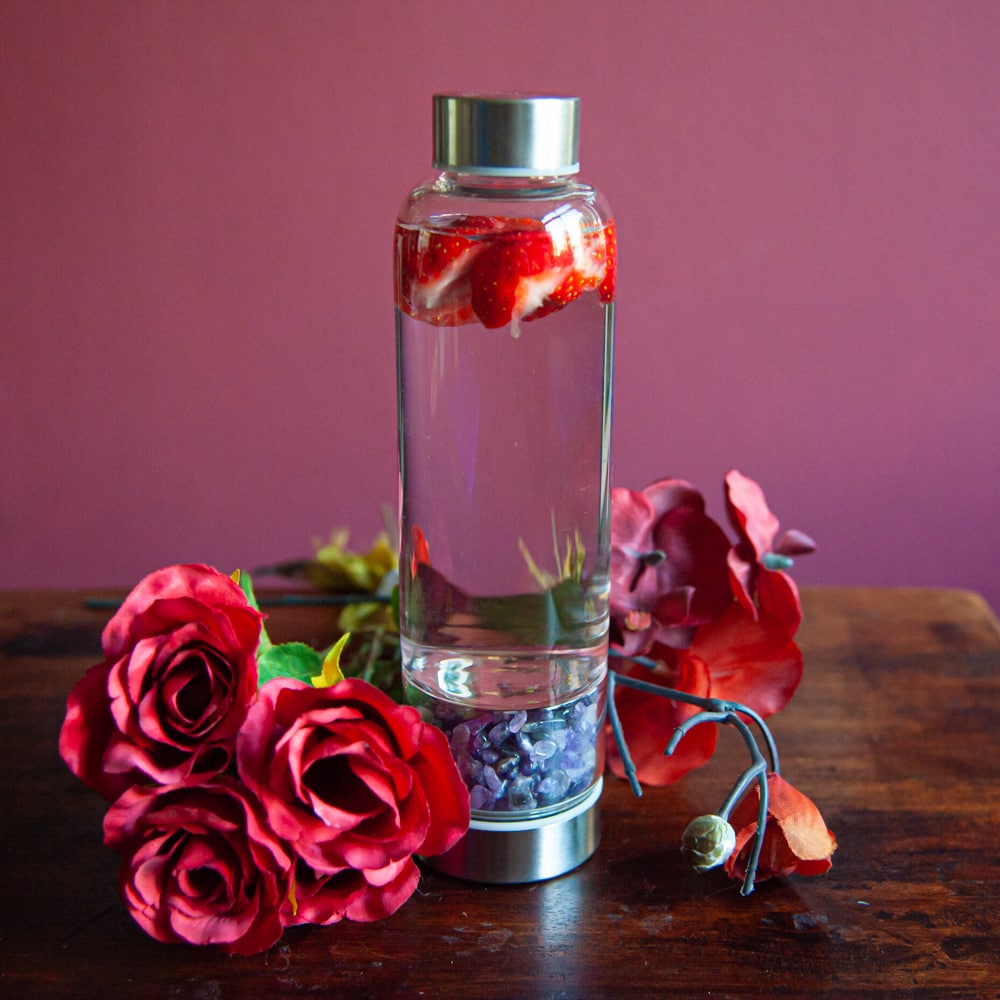 Making Gemstone Water with Loose Stones
Is your crystal knowledge up to scratch? Are you aware of possible toxicities? Then you can buy Tumbled Gems of your own choice and fill your carafe with them. Shungite, for example, is known as a very purifying mineral, just like Rock Crystal. Working with loose rocks would be the most powerful method, as the water and minerals can exchange their energies directly.
How Do You Do It?
Carefully place the loose stones in their holder, for example by placing your empty carafe or drinking glass horizontally and sliding the stones into it. Be careful, because falling rocks create shards! Fill with water and leave it out of the refrigerator for 12 hours. It's a low maintenance way to make Amethyst or Rose Quartz water for example.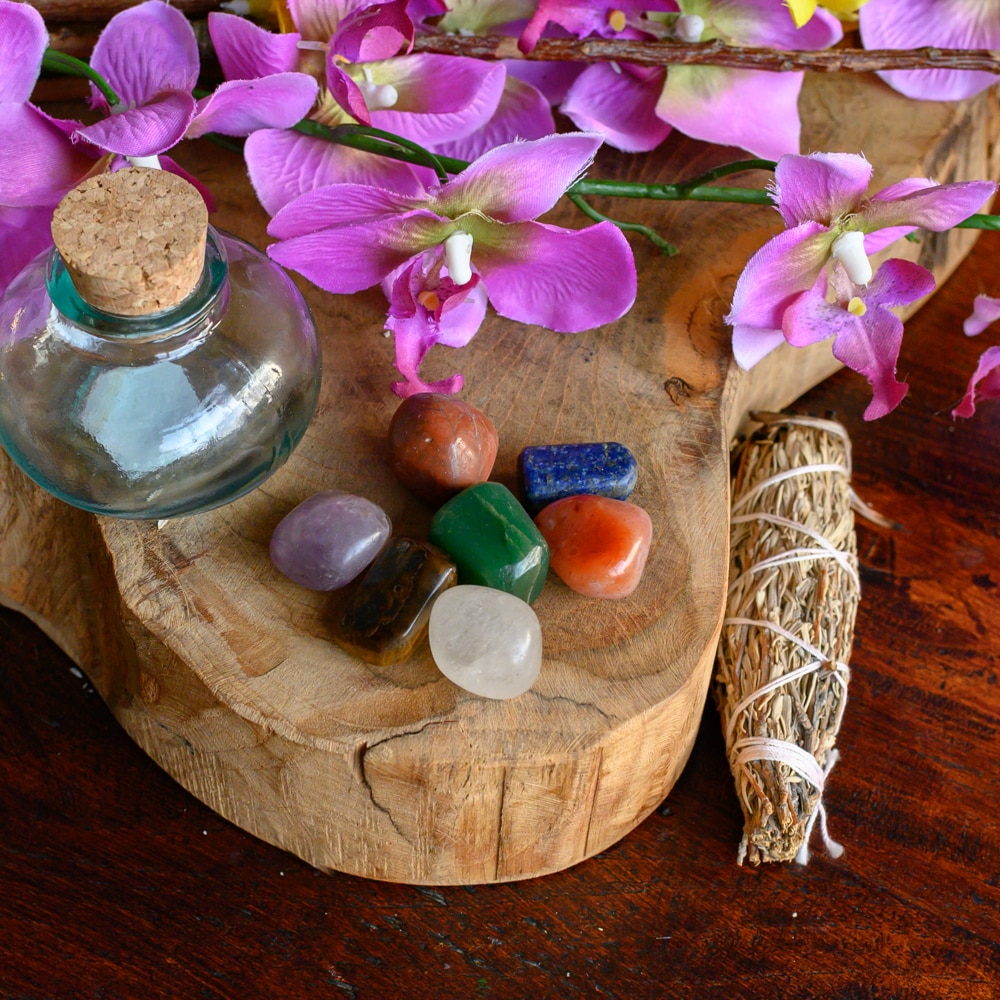 Making Gemstone Water with a Golden Triangle
The Golden Triangle Gemstones are a combination of gemstones that create harmony when used together. If you position Amethyst, Rock Crystal and Rose Quartz in the shape of a triangle, anything placed in the center is infused with their special energy, so water too!
How Do You Do It?
Place the gemstones according to the guidelines of a Golden Triangle. Place a glass or carafe in the center of the setup, keeping in mind the relationship between the content and size of your stones. For example, three gigantic geodes are a bit exaggerated for one glass of water. Let the water charge for half a day and enjoy your gemstone water energized by the golden triangle.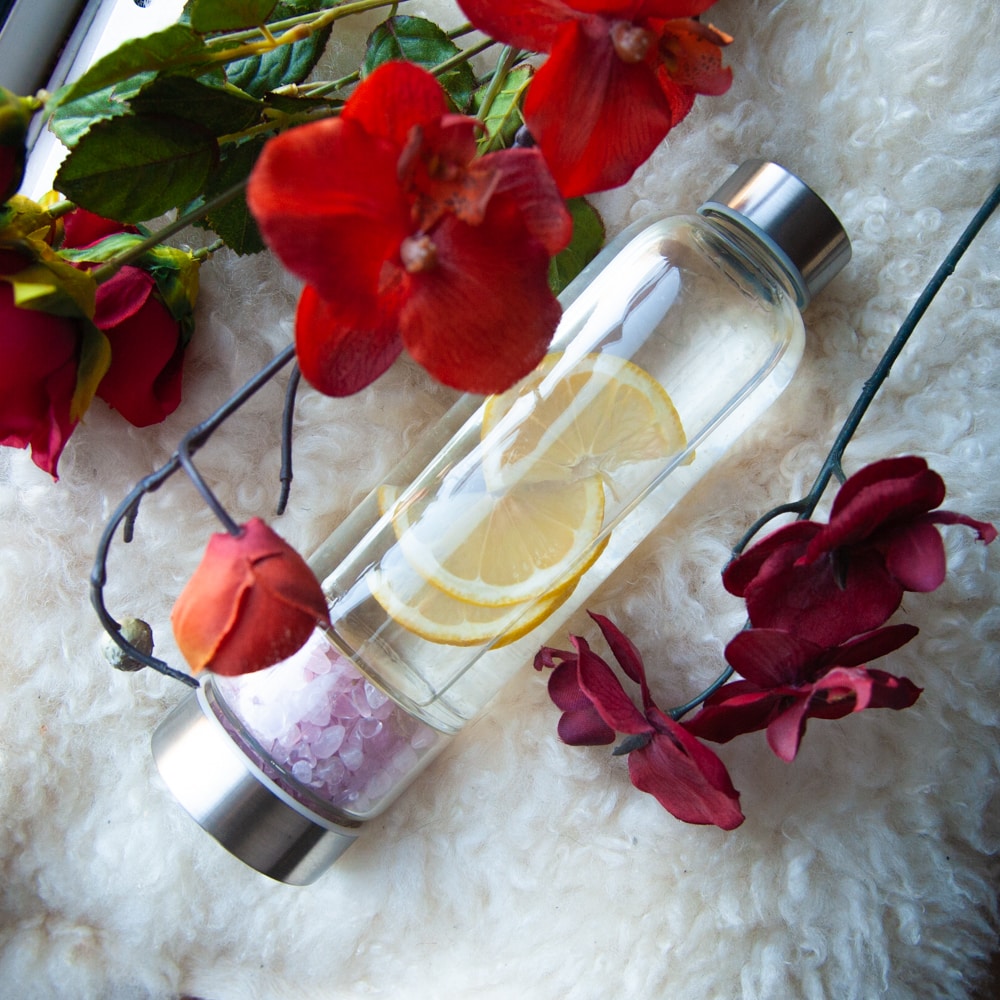 How to Use Gemstone Water
The same applies to crystal water as other energy work: it's personal. You should gain experience in gemstone water yourself to decide how much and how often you drink it. It can be powerful stuff and besides, everybody is different. Below you'll find a number of tips to experiment with charged water yourself:
Start with one glass a day at a fixed time.
Start by making water from one type of stone.
Stop for a week after the first batch to feel if crystal water makes a difference for you.
Don't expect miracles. Think of the water as personal care, just like brushing your teeth.
More Spiritual Self Care with Crystals
Are you interested in the energy of gemstones? There are many more spiritual grooming rituals that are interesting and fun! For example, it can be nice to give your Aura some attention with minerals or to work with Chakra Stones. Massage also works well with crystals for example with a Gua Sha Massage. Use a Gua Sha Stone or Massage Roller to detox your skin daily. Do you want to work from the inside out? Then Yoni Massage might be something for you. Relax and enjoy adding some crystal clear energy to your wellness practice.